Collaborate on projects with friends and like-minded doers
Attract teammates, feedback, and resources to your
Startup
. Pursue ideas together. Join like-minded people with complementary skills
1. Post Your Interests to Surface Complementary Teammates
Discover people who share your interests and have complementary skills. Within and beyond your personal network.
2. Get Far More Than Likes or Funding for Your Projects
Post your projects, initiatives, & pursuits, so other doers can join, or help out with tasks, exposure, referals, advice, and resources.
3. Accomplish More, Together
Chat, meet, exchange mentorship, move mountains. Your work, contributions, and insights inspire others to join, help, and even fund you.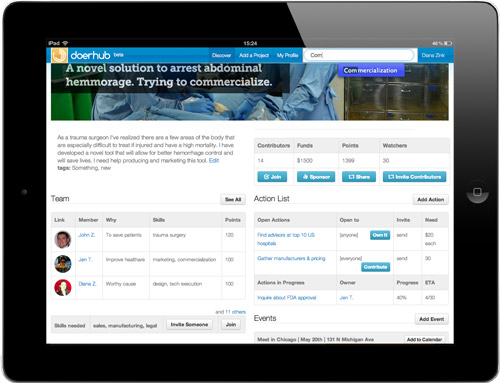 Giving Luck a Boost
Post what you need for each project (tasks, team skills, exposure, advice) and spread the link to it. Both DoerHub users and people you invite can contribute by:

Joining your team Picking up a task Refering someone Spreading word Providing advice or feedback

You can collaborate with everyone straight on your DoerHub project page. Privately, or with exposure to the public for project scale.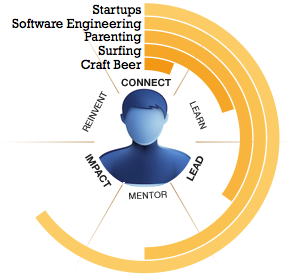 Rich, Deep, Actionable Team Building
Each interest you pursue takes you through a repeating cycle of needs.
1. At first you strive to connect with others.
2. Then seek to learn.
3. To make it your own by building or leading something.
4. Then you may enjoy mentoring others
5. With success comes desire to impact, invest, or influence.
6. Until you are ready to reinvent yourself and do something new.
DoerHub is the
only
place in the world, where you can
see who else understands and complements your interests
, and can invite them instantly to do more together!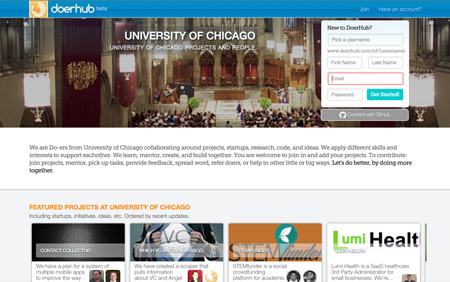 Tackle Ideas Within Your Community and Beyond
Join collaborative communities at the University of Chicago, Northwestern, Stanford, etc.